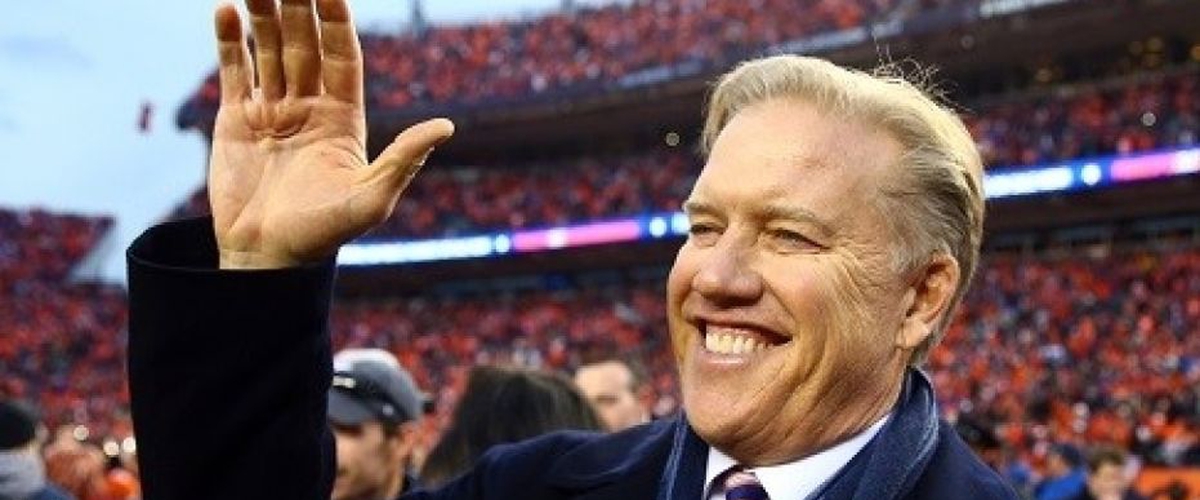 In case you missed a hell of a Lavallee Sports Take Podcast this week, check it out here
We hit a number of topics but the most fiery debate was regarding John Elway, not the football player, but the President of Football Operations for the Denver Broncos. My good friend and podcast partner Chris Lavallee was trying to tell me that John Elway wasted an all-time defense and that he should have won another Super Bowl during that 6 year window since Peyton Manning came to town in 2012.
Chris' take was that Elway was such an egregious failure and a misrepresentation of his public persona as a brilliant talent evaluator, so much so that he said Elway should be fired.
Not only is that totally asinine, Elway should be promoted to President… of all of Football.
The two time Super Bowl winner retired after the 1998 Super Bowl exactly the way one of the all-time greats should, on top of the world. He proceeded into retirement with his eyes set on other goals.
He owned a chain of car dealerships, an Arena Football Team, served as the Chairman of the AFL's executive committee and was a spokesman for OpenSports.com
What Elway didn't do was hone his prowess of evaluating talent. he certainly didn't coach nor did he prepare himself in any tangible way for his position in the Broncos front office other than being the co-owner of a shit team in a knock-off football league.
In 2010 when he expressed interest in returning to the Broncos organization he humbly explained that he didn't think he was qualified to be a Head Coach or GM due to his lack of pertinent experience for both positions.
Clearly the Broncos knew he would have been a better fit than Josh McDaniels who traded up to draft Tim Tebow a full year before Elway was even back in the organization.
In 2011 when the Broncos fired Head Chump McDaniels they turned to Elway and this time he agreed to take on the role of President. That's right, the guy who said he shouldn't be in that role due to his lack of qualifications found himself in control of all football decisions for a franchise that made him the star that he was, in a city that loved him for his legend, with a roster almost completely devoid of elite talent.
According to FootballReference.com the 2010 Broncos were one of the 3 worst Defensive teams in football as they sucked their way to a 4-12 record.
With only 3 months to prepare for the draft Elway managed to get the best Defensive Player in the league for probably a decade in Von Miller who was pivotal in the Super Bowl 50 victory over the Panthers, as well as receiving an overall 'A' draft re-grade from CBS sports when they went back through the draft 3 years later.
In free agency that year they added CB Chris Harris who is still one of the to corners in the league, Willis McGahee who went on to have a career season, carrying the ball for 1200 yards as well as a number of rotational guys who helped propel them to an 8-8 season and an undeserving playoff run in 2011/12.
I'm not going to go through and list every other player Elway added after that, but I will talk to you about the Broncos record over Elway's 7 year tenure.
2011- 8-8
2012- 13-3 (the first year of Peyton)
2013- 13-3 Manning beats Brady in AFC Championship, then loses to the Seahawks in the Super Bowl
2014- 12-4 Ugly loss to the Colts in the Divisional Round
2015- 12-4 Super Bowl Champions with 97 year old Peyton Manning rolling his wheelchair along the tunnel.
2016- 9-7 despite no more Peyton
2017- 5-11 throwaway year.
Since John Elway took over the Denver Broncos in January of 2011 they are 72-40 for a 64% win percentage with 1 Super Bowl win on 2 Super Bowl appearances.
The only team in that span to go to more Super Bowls than Denver is New England who we all know has GOAT's at the two most important positions, QB and Head Coach. The Seahawks have also gone to 2 and won 1 in that span with another once-in-a-generation Defensive unit.
Let's factor in for a second the fact that the average NFL player is in the league for 3.3 years, if you want to believe the NFL's inflated numbers the average career is 6 years. So to say that 2 Super Bowl appearances in 7 years with 1 victory and a 64% win percentage is a 'waste of an all time great defense' is just ridiculous.
The window for championships in this league is so small and even if you have the best team like that Pats squad that went undefeated and lost to an inferior Giants team, you still might not win one. Just ask a Philli fan if they think getting only 1 Super Bowl in this era is failure. Should we fire Pete Carroll too while we're at it?
The bar for success has to be curved to meet the reality of the league which is simply that dudes just don't have long primes and when they do, even when it comes together perfectly, its still highly improbable that a team will win more than 1 Super Bowl in a 7 year span.
This leads me to 2 conclusions:
1) What Brady and Belichick have done is untouchable, I don't give a shit what you want to say about the defense he had the first three seasons, just getting to 5 Super Bowls is something unprecedented for any group over any period of time. These guys have WON 5.
2) John Elway is one of the top 3 executives in the NFL and should be made President of all of Football. Fuck you Goodell, Big John is coming for your throne. He's got the gracious smile, the humility, the eye for talent, and the resume to back it all up.
You've got my vote John.
MD